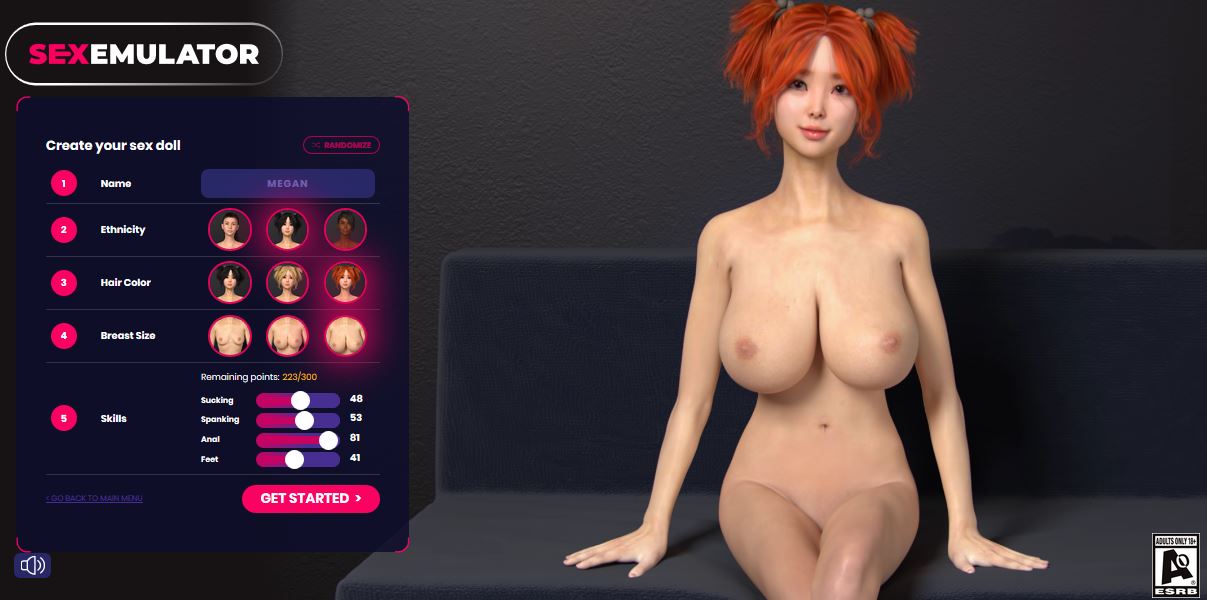 Sex emulator Review
In a internet populated with countless adult websites, Sex emulator stands out from the rest. This isn't just a normal adult content website with various pictures and videos, this website contains an interactive world of virtual sex with plenty of content to keep you engaged for months.
This site is free to try, although in the US it requires credit card age verification, but without charging any money to check the site out. You'll find that although you can get a good taste of what the site includes without paying, your experience will be limited to a few scenarios and you won't be allowed to explore the rich features of this incredible site.
When you begin using this site, your first job will be to build your dream girl. You have many options to choose from, so you can truly make your dream sex partner your own. You can pick her hair color, her race, her chest size, what she's wearing, and what she likes. In short, you need to pick your ideal playmate to explore this exciting new world.
Once you've built your new lover, it's time to try her out. You direct the action; you can make her touch and finger herself to warm up or play with her favorite toys. Of course you can join the action, and pick which hole and which position you choose for your new playmate. You can enjoy watching your dream girl with your dick in her mouth, or perhaps you'd like to bend her over and try a little anal sex. You can also choose to give her a spanking, or play with her feet, so whatever your kink you'll be able to satisfy it here.
Not satisfied with just the two of you on the bed? Don't fret because there are more than 400 different games and scenarios which you can play. Perhaps you want to invite another playmate into bed with your friend, or maybe more as you explore some group sex scenarios. Perhaps you'd like to explore the BDSM lifestyle, where you can strip down an innocent schoolgirl and show her how pleasurable being punished can be.
When the various sex based games are getting too old for you (although I doubt they will) there are other options to keep the fun going. The game Hustle Town is an action game, where you play a gangster freshly out of jail while you build a virtual harem of women. The game BDSM Discipline is a more hands-off game where you select a few options and watch the story play out. This is very helpful if your hands happen to be busy.
Everything considered, if you are going to open up your wallet and pay for some adult content, this site may be the only one you need. The quality of the scenarios and the overwhelming variety of game play options is sure to take your private time to a new level.
More about SexEmulator Ultimate SEX Simulation Game
Written by: Jholbrook